ROCK IN LE FESTIVAL & INDOOR GITARRENWELTREKORD 05.04.2014 Filderhalle Leinfelden
Das Rock-Event mit Indoor-Gitarrenweltrekord, Konzert und Ausstellermesse!
Am 05. April 2014 ruft das Team um Gitarrenweltrekord Organisator Andreas Vockrodt zu einem neuen Rekord auf.
Mindestens 300 Gitarristen treffen sich dazu in der Filderhalle Leinfelden-Echterdingen, um gemeinsam die Saiten zum Glühen zu bringen und einen neuen Rekord aufzustellen. Dazu werden die Teilnehmer gleichzeitig den Song "Smoke On The Water" von Deep Purple, sowie den selbst komponierten neue Song "Welcome To Europe" spielen. An dem musikalischen Rekordversuch können Gitarristen jeden Alters und jeder Spielstärke teilnehmen und erstmalig werden auch Spieler des Saiteninstruments Saz zugelassen, das als "orientalische Gitarre" gilt. Der Eintritt für das Rock in L.E. Festival ist für alle Teilnehmer am Gitarrenweltrekord frei!
Der Gitarrenweltrekord wird das Highlight des Festivals sein. Daneben wird es ein spannendes musikalisches Programm geben: Topact Blug plays Hendrix (Stratking Of Europe, Bester deutscher Rock-Pop Gitarrist) steht dazu ebenso auf der Bühne wie die regionalen Bands Cloey, Partyblues, Helldorados und die Gruppe Junior, die per Fanvoting gewählt wurde. Als internationaler Stargast konnte für das Rock in L.E. Festival 2014 Renée Knapp gewonnen werden, die als internationale Schauspielerin, Opernsängerin und Darstellerin bei Phantom der Oper in Hamburg bekannt wurde.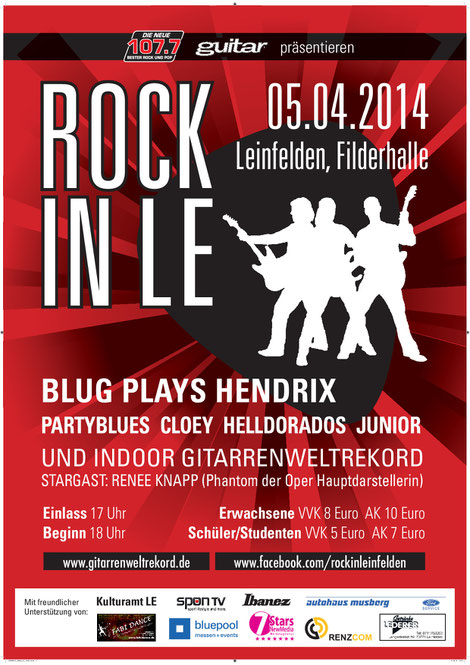 Das Festivalprogramm im Überblick:
-       Indoor Gitarrenweltrekord
-       Konzert mit Blug plays Hendrix, Partyblues, Cloey, Helldorados, Junior
-       Aussteller- und Bandmesse im Foyer der Filderhalle
-       Stargast – Renée Knapp (Hauptdarstellerin bei Phantom der Oper in Hamburg)
-       Attraktive Verlosung
Geplante Running Order
Einlass: 17 Uhr
18.00 Junior www.junior-owusu.com
19.00 Helldorados www.helldorados.com
20.00 Gitarrenweltrekord mit Stargast Renée Knapp www.renee-knapp.de
20.40 Cloey www.cloey.net
21.40 Partyblues www.partyblues.de
22.40 Blug Plays Hendrix www.thomasblug.de

Tickets: Erwachsene Vvk 8 Euro, AK 10 Euro, Schüler/Studenten: Vvk 5 Euro, AK 7 Euro
https://www.ticketmates.de/shop/RILE
Einlass: 17 Uhr, Beginn: 18 Uhr, unverbindliche Voranmeldung zum Rekord unter: info@gitarrenweltrekord.de, alle Infos zum Event unter: http://www.gitarrenweltrekord.de
Veranstalter + Organisation: RILE e.V., Germanenstrasse 5, 70771 Leinfelden Tel: 0711/ 75 24 78, Email: info@gitarrenweltrekord.de Internet: http://www.gitarrenweltrekord.dehttp://www.facebook.com/gitarrenweltrekord  http://www.facebook.com/rockinleinfelden